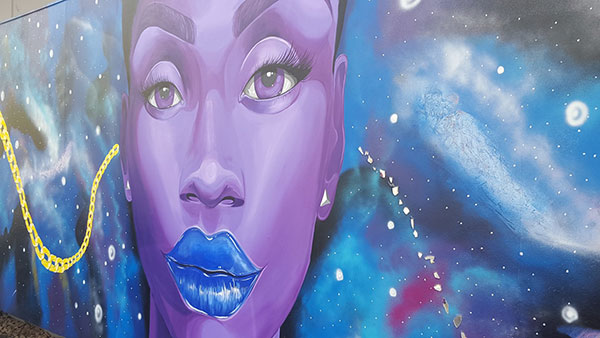 Detail from For the Love of Music, by Aramis Hamer, 2016

The Seattle Office of Arts & Culture (ARTS) is partnering with Seattle Parks and Recreation (PARKS) to commission an artist or an artist team of two, to collaborate with the City, community members, and Project Art Planners, Damon Brown and Hasaan Kirkland, to design and install a mural art project that reflects the diversity of the Central District neighborhood.
The artist/artist team will design an artwork that creatively demonstrates an original composition that celebrates, educates, and visually elevates the experience of park visitors and community neighbors. The final work should incorporate subject matter and design elements that honor Indigenous American, African American, Asian, Pacific Islander, Jewish, and European American communities in the Central Area through the idea that humanity, respect, innovation, inspiration, and legacy connect us to history and place. This work should also be inclusive of diverse identities and LGBTQIA communities acknowledging that all are deserving of the pursuit of happiness and freedom "to be."
Community members have expressed an interest in participating in the creation and installation of the artwork and community collaboration shall be a consideration when selecting an artist/artist team.
Please see the full call for details.
Eligibility
This call is open to professional artists who are residents of Washington State. Artists who apply for this call must explain their connection to Seattle's Central District neighborhood and provide a narrative that embodies culture, diverse identities, innovation, inspiration, legacy, education, the pursuit of happiness, and the freedom "to be." BIPOC artists are encouraged to apply. Students are not eligible to apply.
Budget
The selected artist/artist team will receive a budget of $30,000 all-inclusive of all taxes and fees to design, fabricate, and install the artwork.
Deadline
Thursday, June 3, 2021, 5pm Pacific. Please allow ample time to complete your application; applications submitted after the deadline will not be accepted.
Virtual Workshop
We highly encourage you to attend this online workshop, especially if you are a first-time applicant. Planning Artists Damon Brown and Hasaan Kirkland along with ARTS staff will share more information about the Spruce Street Mini Park Artwork Project and will review steps of the Submittable application process. A recording of the webinar will be available on YouTube a few days after the session is held.
Saturday, May 1, 2021, 10–11am Pacific
RSVP here
This is an online workshop and you will receive the link to the workshop the day prior to the workshop. The virtual workshop will be recorded and made available approximately one week after the workshop.
Application
Read the full guidelines for this call.